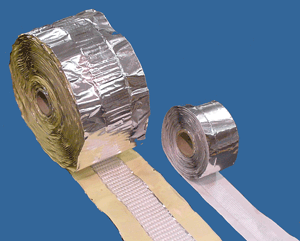 QUICK-WELD Fiberglass Back-up Tape

"QUICK-WELD" Fiberglass Back-up Tape is a Heat resistant self adhesive aluminum tape with a woven High Insulation Fiberglass center strip, designed to eliminate the need for purging and create air free weld pool enclosure . IT is used for Pressure Vessels, Ship Fabrication, Heay Engineering etc. It is suitable for TIG & MIG Welding.





Advantages:
Reduces setup time
Saves argon gas, as no purging required
Weld one side only
Eliminates back chipping
Eliminates defects and reworks
Eliminates gouging and grinding


How to Use?
| | | |
| --- | --- | --- |
| Step1 | Step2 | Step3 |
| Gently remove paper cover from one side, so adhesive section will be exposed | Take Center and place the fiberglass section at backside of Root gap.Firmly stick adhesive section to the area surrounding the root gap | Remove paper cover from the other side and press it firmly to the other side of welding object. This ensures the air free seal to the entire root gap area. |
| | | |
Thickness 40mil, 70mil, 120mil
"QUICK-WELD" Fiberglass Back-up Tape is available in various Customized sizes.
Standard Size: 75mm Metalic tape , 25mm High Insulation tape, 20mtr. Long Roll