"Super-Nova" Aluminum Tape
Fully quoted "High Heat Resistance" Aluminum tape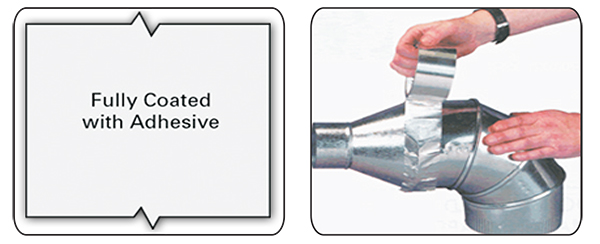 "Super nova" aluminum tape is a special tape with temperature resistance up to 180 C.

It is distinctively designed with an uniform coat of unique adhesive, which will resist temperature up to 180 C. This tape is super soft and can be easily applied to any metal and on flat or uneven surfaces. It'sunique feature of shielding against heat has initiated many significant industrial usages.

"Super nova" aluminum tape has imperative uses in industries such as Electronics, Telecommunication, Automobile, HVAC & Construction, Aeronautics & Marine, Chemical power plants, Oil & Petrol industries, as well as Defense and Military.

For adhesive heat resistance level is up to 180 C, while base of aluminum tape can resist heat up to 600 C.

Suitable for continuous temperature for -60 to +180 C.

Peak loads for short periods, is between -80 to +450 C.



Applications:
It controls release of gas by sealing root gaps or leaks in ducts.
Acts as vapor barrier during Air-conditioning & Refrigeration.
Convenient for masking operations, frequency shielding.
Useful for other conventional usage such as Underground cable joints, Lightproof sealing, Plugging, Capping etc.
"Super nova" aluminum tape is available in 50 mm (2") wide X 20 Mtrs long Roll.